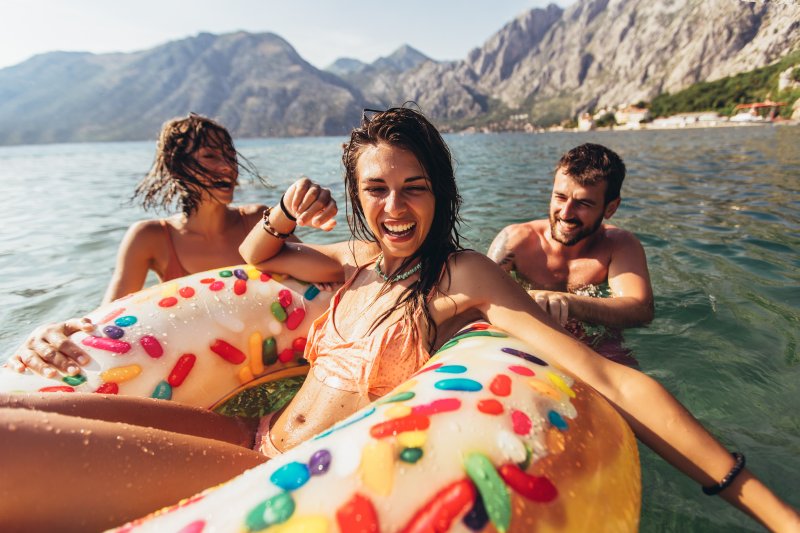 There's no denying it now: summer is in full swing. Most schools have let out, and blockbuster films are starting to be released. That all being the case, you're likely planning a family getaway. Amidst the excitement, though, don't forget to look after your smile. Healthy teeth and gums make summer fun all the better. If you'd like, your Warsaw dentist can even help out. Here, then, are some vital oral health tips for your summer vacation.
See Your Dentist Before Leaving
You may (naturally) be eager to leave for your trip. Even so, try to see your dentist before doing so. A quick pre-trip checkup with them will do a lot of good.
You see, this dental visit can help prevent oral emergencies abroad. That's only natural – it lets the dentist treat oral issues before they worsen. From there, you'll be less likely to suffer a severe infection during your fun in the sun.
Pack Dental Care Essentials
Of course, you should always pack seasonal gear for a vacation – swimsuits, sunscreen, sandals, etc. Among other things, though, remember to bring the dental care essentials. You'll still need them even if you're away from home, and they may be unavailable at your destination.
If nothing else, make sure these "essentials" include the following:
Travel Toothbrush – As always, it's crucial that you brush twice daily with a soft-bristled toothbrush.
Travel Toothpaste – By using fluoridated toothpaste, you'll strengthen your teeth against decay.
Travel Dental Floss – Dental floss does much to prevent gum disease, so you really should pack some.
Drink Plenty of Water
As you may already know, hydrating is a must for your physical well-being. However, this habit is also beneficial to oral health during the summer.
Remember, it's easy to get parched when you're out in the sun. Should that happen, your mouth won't produce enough saliva to wash away plaque. The result is increased oral bacteria and a greater risk of cavities. Fortunately, drinking water throughout the day prevents such things.
Be Careful of What You Eat
There's no problem with indulging in tasty food while on vacation. After all, this activity is one of the appeals of traveling! However, you should still try to be careful about what you eat.
For instance, try to limit your sugar intake for the trip. Sweet summer staples like ice cream and soda erode tooth enamel, leading to cavities. If possible, try to substitute them with lean proteins or leafy greens.
With the right oral health tips for your summer vacation, you'll have a fantastic getaway. So, remember to use the ones above as your trip begins!
About the Practice
East Center Dental is based in Warsaw, IN. Led by Dr. Mike Rudolph, our practice offers top-quality dentistry for each and every patient. To that end, we perform preventive, cosmetic, and restorative work tailored to your unique smile. We're thus equipped for everything from dental checkups to orthodontics, including Invisalign clear aligners. For more information or to book a visit, you can reach us on our website or by phone at (574)-269-1787.